99 things
2004-09-30, 7:42 p.m.
I keep real life over at LiveJournal. Have a look, if you please!
i try very very hard to keep my personal life off the internet. i write emails about things that happen, but i try and keep the nitty, gritty, real, ugly details to myself.
i esp. try to keep them out of my knit blog. this is about knitting...you didn't hop over here to hear about my latest decision, re: vegetarian vs. vegan or some weird-ass dream i had last night. you want to hear about my string and my sticks!
but, for sake of knowing SOMETHING about me, i'll give you 99 things.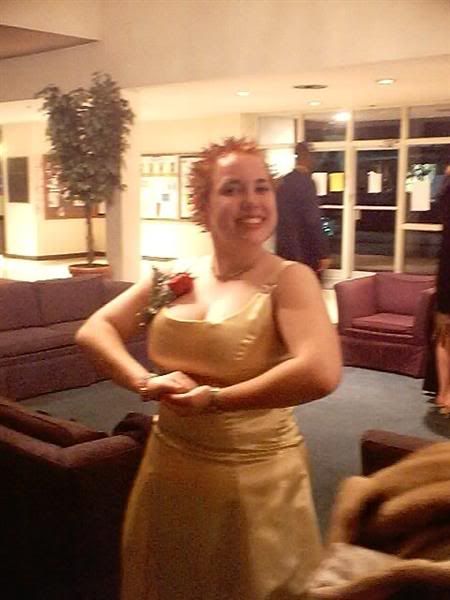 1. I'm female and pretty damn proud of it.
2. Been through a lot in my short lil life. Sadly, I'm not to the point of not taking shit from anyone...although there are precious few that can make me jump like that.
3. I'm a self-identified lesbian...
4. ...who lives in Philadelphia, PA...
5. ...with an ex-boyfriend (I call him my best friend) who lives in Chicago, IL. I'm sort of dating a cute little punk from North Philly right now.
6. I moderate email lists for a group called SEAC (pronounced: seEK).
7. I also do another job (on a volunteer basis, nonetheless) for them: materials coordinator. It's an obsession.
8. I LOVE checking my mail. And writing letters. And stationary. And stamps. And things having to do with snail mail.
9. I'm a Mac user and have been since BIRTH. (No crap. My mom was the only grad student her class at LSU to write her thesis on a computer...and she used a Mac. Back in 1983, even.) I'm not thinking about switching. Ever.
10. I LOVE my Nalgene (yellow with a blue cap + pink with a pink cap!) with a fierce passion and think everyone should own such a wonderful glug-glug drinky thing.
11. I also almost always carry a messenger bag or tote bag. In my world, it's either a bag like that or no bag (pockets, hiding things in my bra). Purses and I don't get along well.
12. I'm what I call vegan-lite. After being a vegetarian for 11 years (more than half my life), I'm working on giving up more.
13. Babies scare me. I like PICTURES. The real things freak me out.
14. Until I was 16, i didn't use profanity. Now, I can't stop myself.
15. I was raised in a strict, Southern, Presbyterian family. "We" don't use profanity, have sex outside of marriage, or miss church. I am slighly more relaxed on all three points.
16. I still believe in God. No, you can't talk me out of it. Yes, i would love to discuss the God of the Christians vs. God of the other religions vs. no God arguement with you. But I will not have that discussion with anyone who thinks I'm stupid for believing the way I do. I don't think anyone else is stupid for their choice of belief...the only stupid ones are the ones who are old enough to have thought through things and just haven't ever thought about it; they are stupid for not thinking for themselves, though.
17. I'm Southern at heart. Mississippi has taken on a Faulknerian existance in my heart, though.
18. I can recommend good Southern writers. John Grisham is NOT a good Southern writer.
19. I come from money. except I don't have any. My parent's money stays with them.
20. Most of my favorite bloggers are on LJ.
21. I really like hummus.
22. Growing up, I was one of the guys...
23. ...except I had boobs. Lots of them. Still do.
24. I wear a size 12-14 dress...adult medium t shirt (I like 'em fitted)...size 12-14 shorts/pants.
25. I've recently made peace with my weight. peace enough to say the approx. number: 160 pounds.
26. < blatent opinion > I think i'm a fucking goddess.< / blatent opinion >
27. I own a domain: i-sue.org. The name is based on a plotline from Help Desk + my real name.
28. i have three younger brothers. i love them like crazy and would do almost anything for them.
29. I have a hard-core webcomics addiction, as seen here. My first comic was Help Desk, and it's still one of my favorites to this day.
30. If I had to choose between electricity and cell phone, I'd pay the cell phone bill.
31. I went to a boarding school my JR year of high school; this made a profound influence on me, and some of my best friends now are from back then.
32. I've been diagnosed as bipolar, but I don't see this as something that should be made into anyone else's problem. The only people who ever hear about it are my partner, parents, and people who ask.
33. I shaved my head last summer, for the third time. I'm considering doing it again, since I look pretty cute in the stages of growing out.
34. Normally, I have dark brown hair; but I usually dye it red. Most people in Mississippi (and Philly, for that matter) think I have red hair; only a select few know better.
35. My iPod is the greatest thing on earth, but it's dying! (I have a 1G iPod; it's given me a lot of service of the years.)
36. I like strong women; that's why I read the blogs I do.
37. being married doesn't mean you are a weak person or a weak woman.
38. i don't support gay marriage. sorry. i support the idea that EVERYONE should have to get a civil union and only people who want a church and God to preside over their union should get married. i just don't see the point in letting the state meddle in the affiars of the church or vice versa. just do away with "marriage" and give everyone the same rights.
39. i hate the color purple. it's an irrational fear and hate, but it's there. i've worn purple once since i was 13: on my 18th birthday.
40. I've been blogging since I was 14 and don't plan on giving it up any time soon!
41. I moved to Philadelphia, PA in a huff; my parents didn't know I was leaving until the morning I left. I also left pretty fast; the job offer came through on a Tuesday, and I left on Saturday.
42. I like learning about other cultures, merely for learnings sake.
43. I like learning, in general, for learning's sake. I really don't have too much of a goal when I set about to learn something except to gain knowledge of some sort.
44. The desktop on my computer is almost always a Sanrio desktop unless I'm finishing up an idea for DigiKitten.
45. I still shave my legs. most activist women don't, but I feel like a man if I don't. Shaving makes me happy.
46. I don't really like my dad, but my brothers are kickass.
47. I had my left nipple pierced. (You know you wanna see my boob!) It migrated a whole lot and was a bad piercing in general, though. I took it out Labor Day weekend in 2004. Then, in March of 2005- to celebrate my 1 year in Philly, I got my right nipple pierced. This piercing has been a whole lot better and looks great!
48. I have three holes in my ears; I just had to be different, so I have two in my right lobe and one in my left.
49. No ink yet, and no real plans to get any. Tattoos just aren't my thing because they are there forever.
50. my mom doesn't know about my piercing. she thinks i had my eyebrow done and took it out.
51. i'm unsure if my parents know i'm sexually active. there are conflicting reports from my "sources" on this topic.
52. I have Herpes (HSV), and I'm pretty up front about that. Herpes is not an STD to be ashamed of and not something to sweep under the carpet.
53. I used to listen to RadioTiki a whole lot. (The guy you hear called Maurice? He's my best friend.) My on-show "alias" was kittenmonster but is now the_kitten. (I only make appearances in the IRC chat room on Friday nights.)
54. I don't read horoscopes; I read Molluscopes.
55. I am a classic ENFP.
56. I've tried college three times: Mississippi University for Women (MUW), Hinds Community College, and Mary Baldwin College. I'm not there right now, of course.
57. I HATE flying. HATE HATE HATE. I take the train instead.
58. I like scotch tape and paper clips; staples and I just aren't friends. When I was in high school, I used paper clips instead. My teachers hated me.
59. I also hate vaccuuming. I avoid it at all costs.
60. I try to be vaguely political, but politics bothers me because people tend to freak out about the wrong thing all together.
61. My attention span is getting a lot better, but multi-tasking is still a big fun-fun thing for me.
62. i like email. i have hotmail (visceral_magic), yahoo (blu_starlite4000), hellokitty.com (cinnadear), seac (suzanne), gmail (peanut.chew), and stuff on my own domain. i only check hotmail, seac, and gmail daily though.
63. my favorite foods are potatoes, mushrooms, strawberries, and small children.
64. my favorite movies are newsies, time bandits, diner, real genius, and alice in wonderland. i own the first three...waiting until i can own alice and real genius! wheeee!
65. my favorite beverage is water. i also like kool-aid a whole fucking lot and tea. (i make tea in my nalgene- see #10- using two tea bags. yum yum.)
66. i'm an anti-nuclear activist. and an anti-sprawl activist. and a menstrual activist. and an environmental activist.
67. i love getting text messages on my phone, but i can't always reply. (2153001652@mobile.att.net or here.)
68. i really like caramel for some reason.
69. i like raincoats...and have a big HUGE yellow one. it's good fun.
70. fall in mississippi is my favorite season. it's quite different (and much shorter) than fall in other states.
71. i have and love and use several le creuset pots and pans. my "color" is jade. my mom has the blue ones. i LOVE them and recommend them to everyone who is interested in really cooking, owning quality cookware, or being economically sound with their cooking and energy use.
72. i'm fairly sure i've repeated something on this list. but i'm not sure.
73. i don't want to ever buy a new diamond. i only want estate diamons/previously owned diamons and family jewelry. more than enough beautiful rings have already been made; i don't really want to encourage the mining of more diamonds. (read the book blood diamonds for more info.)
74. i don't write for comments. comments are nice, and i try to reply to all of them. but i write for my own purposes and am not hurt without comments or pageviews. really.
75. i'm an undecided voter but a proud republican. i'm not sure how that happened.
76. i'm not emo and never will be. but i fit in with the emo crowd pretty well.
77. i'm somewhat of an amorphius personality. i change from group to group, floating here and there. i never totally feel like i fit in any one place. [see this for more of my own feelings on this issue.]
78. Bright colors make me happy. I usually go with bright, simple colors when decorating things.
79. in 10 years, i want to be married, happy, done with college, a kitten-owner, mother of 3+ adopted children, and changing the world.
80. I've decided to put off college another year; I want to have my financial state in order first.
81. I have a very distinct speaking style; if you listen to me long enough, you'll pick up on strange (but real) words that i use a lot. (ie, mayhaps)
82. I have an AudioScrobbler here! You can make fun of my poor taste in music!
83. my favorite types of knitting are socks and lace knitting; both i consider to be "thinking knitting". i also love cables, but color work doesn't really do it for me.
84. I'm an NPR junkie. I love it; my favorite show is Prairie Home Companion.
85. i really want to learn to spin, but that's not possible right now. first, i want to buy my friend samantha a spindle and some roving. (and pay my rent.)
86. I'm mostly a vegan knitter. If it's for me, it's cotton or acrylic or somesuch; I'm open to knitting for other people with wool, though.
87. I like dating older people.
88. I'm not very good at camping. I really dig it, but I sorta suck at it.
89. I love Bonnie Bell LipSmackers chapsticks. They are so good they blow my mind; I use them every day, all the time instead of lipstick.
90. I rarely wear make-up. To know that i'm pretty without it is an amazing boost, and I think will help me in the long run.
91. my dream knitting project is a sweater made of cotton yarn with broad orange and yellow stripes...crew neck...longish sleeves that need a bit of cuffing...fitted. yay!
92.I used to photoshop on Fark.com, but I got banned (yay?), so I do most of my stuff at DigiKitten and MechaPixel now.
93. I love painting my toe nails.
94. when it comes to yarns, i'm not too hard to please. once you get past materials, i love tweed, lace weight, and ribbon/tape yarn. i don't like fuzzy novelty yarns very much or big huge chunky yarns.
95. I love Sharpies and black Bic round stick pens.
96. I really try to be safe for work. That doesn't work, but I try.
97. I love my straights and my double points. Circs just don't really do it for me, but I'll use them when I have to.
98. My body doesn't run in 24 hour cycles; that makes funtioning hard a whole lot.
99. I was born in 1985. That makes me 20 until june 1, 2006!